Let me ask you a question. Do you find it frustrating when your applications for affiliate programs are consistently denied? Have you wondered what are Best Affiliate Programs To Join Without Website?
Even when you try your hardest, they reject your affiliate applications for a variety of reasons that you are powerless to contest. I first had the same impression. Starting an affiliate marketing business is a significant step, and being accepted after applying is another.
one of the most important things you can do as an affiliate marketer when choosing and working with an affiliate program is to make sure that new affiliates do not require approval. The reality is that in order to be successful, you'll need to be able to join several programs without having to wait for someone else's approval. Which means that having programs with no approval requirements is quite beneficial. As this list indicates, there are plenty of possibilities for beginners to join Affiliate Programs Without Website And No Approval.
Also read : How to Make your First Affiliate Sale (No Matter Your Niche)
Best Affiliate Programs For Beginners
What is Ad creative ai? It is the ideal automation solution for business owners, driven by AI. It to creates a user-friendly platform that makes it simple for businesses to scale by quickly producing hundreds of creatives. AdCreative.ai has seamless designs and more effective advertisements.
Ad creative ai Affiliate program is one of the best Beginner friendly Affiliate programs. You get a 30% Commission on every sign-up, There is no limit to how much you can earn! It all depends on your capability, attitude, and your will to succeed! They also offer $500 Google ad Credits to every new customer you bring, isn't that a great incentive to give as an affiliate?
They have everything in place to get you started quickly. Banners, Images, Templates, Email templates, Tips on how to promote the brand, and more. The best part of this Affiliate program is that provide a weekly newsletter on new strategies to promote their Affiliate Program.
One of the most well-known freelance markets worldwide is called Fiverr. The site where you may find a variety of affordable services for your company. Web design, SEO, copywriting, spokesperson videos, graphic design, etc.
Fiverr is continually looking for additional buyers through various marketing methods, one of which is affiliate marketing, because buyers are what bring the money to the table.
Fiverr gives affiliates like you special links through this channel that they can distribute to their fan base. The affiliate is paid each time someone uses that link to purchase services from the Fiverr Marketplace. In conclusion, you earn money as a Fiverr affiliate by bringing in new clients. Fiverr leverages its affiliate program to give partners exclusive links, sales figures, assistance, and resources. I started with Fiverr affiliate program because its one Best Affiliate Programs To Join Without Website.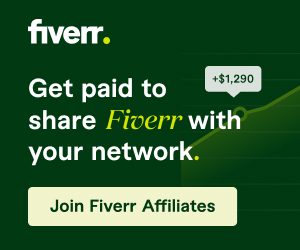 Related post :
The goal of the Jasper AI Affiliate Program is to market top-tier GPT3-based AI article writing software. When you register for this program, you automatically qualify to give your visitors a Free trial of Jasper.AI.
This five-day trial package gives your visitors access to up to 10,000 words. If your users are happy with it after the trial period, they can decide to keep using it.
When they become "paying customers," you begin to receive a commission.
You can make as much as you like using the best affiliate program offered by Jasper. AI. There is absolutely no limit. Additionally, you receive a 30% recurring commission on all Jasper AI plans.
It's as easy as 1,2,3…
Sign up and grab your unique link
Share your link with your friends, family, and followers
Earn a 30% recurring commission on all your sales for life
GetResponse is an all-inclusive marketing software platform that assists you with content creation, sales growth, and website traffic. You can develop successful marketing campaigns by using integrated email marketing, autoresponders, and landing sites.
The affiliate program at GetResponse is fantastic. I like that they provide two different commission program options. You receive 33 percent for each account you refer in their affiliate recurring program each time the account makes a monthly payment.
You receive a one-time payout of $100 from their Affiliate Bounty Program for each sale you suggest. The commission is subject to the details of the partner agreement. The GetResponse affiliate program uses cookies with a 120-day duration. Around the 20th of each month, they send checks (or use another payout mechanism if one is available in your area) to commission recipients.
It is quick and simple to sign up. On their website, there is a contact form that you may fill out. They do inquire about your platform and how you plan to promote GetResponse.
What is VidIQ? it is an SEO tool for YouTubers. VidIQ will be a huge asset to YouTube SEO strategy if you're a YouTube Creator. It is essential for all YouTube content producers, YouTube marketers, SEO experts, digital firms, start-up brands, etc.
VidIQ affiliate program offers three types of commission. That is :
Associate 0-10 Sales 15%
Influencer 11-50 Sales 20%
Ambassador 51+ Sales 25%
With the recurring commissions, you can earn passive income that tops up your bank account even when you sleep. And let's face it, who doesn't want to wake up to more cash? But we're not just about making money – we want to make you part of the vidIQ family.
As a web hosting provider, Bluehost's affiliate program is incredibly well-liked. The cost barrier is low, and the commissions are large, with their programs starting at $2.95/month and one-time payouts at $65+.
They are thus one of the practical ways for affiliate bloggers seeking to generate money online.
You receive credit for recommendations up to 45 days after the initial click if you sign up for their program. You must have at least $100 available to release your payment, which is made between the 16th and the last day of each month.
Systeme.io provides a range of solutions to support successful online business growth. You may earn 40% lifetime commissions on the sales of systeme.io subscriptions and courses with this ClickFunnels substitute. This is also one of the Best Affiliate Programs To Join Without Website.
As an associate, you will always receive a commission for each product a referral buys from systeme.io.
Do you think that sounds good? To join their affiliate program right away, use the link I've provided below.
Selling memberships and digital downloads is possible on the Payhip marketplace. The digital downloads may include games, music, software, tutorials, or e-books. More than 130000 sellers have signed up with Payhip from all over the world. Payhip's hassle-free method is the key to their success. They made selling extremely simple for their customers. Their partner program was developed in order to expand their business. The Payhip affiliate network offers affiliates the opportunity to make recurring commissions.
Check my best recurring affiliate programs here : Affiliate Programs
The affiliate is eligible to get a flat 50% commission on each sale transaction charge. Do not mix this with the selling transaction fee. For instance, your referral sells E-books each month for $600. The transaction fee is 5 percent and costs $30, is charged. As a result, you will receive $15, or half of $30. As a result, you can generate more income by referring more vendors to Payhip. Why doesn't Payhip pay a 50% direct commission each sale, you might be asking. Yes, even I had the same thought, but Payhip must make that choice. If you organize your business operations strategically, you can earn respectable commissions. The Best Elements Of The Payhip Affiliate Program
Immediate approval
30 day cookie time recurring model
prompt payments
Live monitoring
What Makes An Affiliate Program Beginner Friendly?
Cookies, Commission, and Conversion Rate
How well the program converts and how much the program pays in affiliate commissions are two more important factors that define a solid affiliate program for beginners.
Nothing is more disappointing than sending high-value clicks to a program only to see meager or, worst, no revenue at all.
The duration of the cookie is another important consideration. A 24 hour cookie is offered by certain programs, while an entire year is offered by others.
Popularity
Pick an affiliate program that is timely and relevant. This one should be obvious. More vendors and customers are drawn to larger networks. As a result, you have a greater possibility of becoming a prosperous affiliate.
Easy Payment
In our opinion, an affiliate program should offer a variety of reward options in order to be as user-friendly as feasible. Although low minimum payouts aren't usually a selling point, we can understand how they can be for new affiliate marketers.
Low Entry Barrier
We wouldn't think well of a program if they are particularly selective in who they accept, private, have protracted application procedures, or demand a certain volume of traffic.
Even if a program pays out a sizable commission and converts absurdly well, but only admits 10% of applicants… It's not a terrific affiliate program for newbies.
Have affiliate managers
Affiliate managers play a significant role in the learning process for new affiliate marketers; they support them with a variety of responsibilities like payouts, link placement, and more.
User Interface That Is Simple
You won't want to cope with a challenging interface if you're a novice affiliate marketer.
When assessing programs, we consider how simple it would be for a novice affiliate marketer to use the interface, establish affiliate links, arrange payouts, and more.
Final Thoughts about Best Affiliate Programs To Join Without Website

These are some of the Best Affiliate Programs for Beginners. It takes a lot of effort and personality to persuade friends, family, or website visitors to visit the site and purchase the goods you are promoting in affiliate marketing.
Because the work involved in promoting the products is the same in all circumstances, I advise promoting high-paying products when you start affiliate marketing because doing so will result in a greater commission. Reoccurring affiliate products are also the greatest to promote because you will receive a consistent commission on repeated or numerous sales of the same product.